Sledding & Tubing in Park City
A blast for all ages, tubing brings a smile to faces all day long. Good exercise along with exhilarating slide-away fun makes for a perfect activity for couples, friends and families alike. Enjoy a scenic 35 minute drive to Soldier Hollow Tubing Park; which is a venue for the 2002 Winter Olympic Games. The tubing session lasts for up to 2 hours. Located in the Wasatch Mountain State Park near Midway, they offer the longest tubing lanes in Utah. The hill has 1,200-foot sliding lanes with lift service for towing people up the hill, and also fun music that keeps the air full of enjoyable tunes. Plus Soldier Hollow limits their ticket sales so the hill is never overly crowded like other places near Park City.
FYI
**We are just the transportation company and not the tubing park. If you just want to book tubing with no transportation or other excursions, please contact: Soldier Hollow Tubing Park directly at 435-654-2002.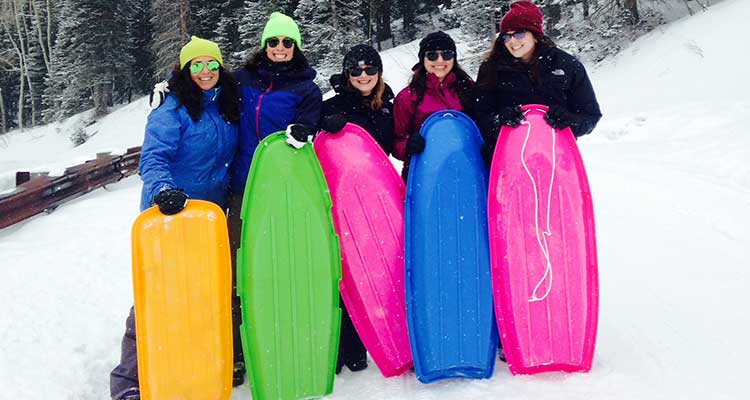 What to Bring
Snow boots (if you have them)
Snow pants
Jacket
Hat & gloves
Sun glasses
Sun block
Cash for gratuities
What We Provide
Waters and granola bars
Free picture taking (with your phone or ours)
Stories and jokes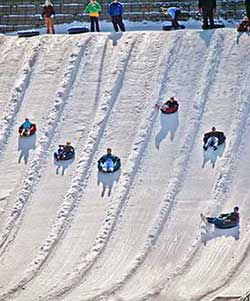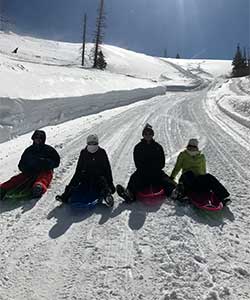 Snowshoe Tour & Downhill Sledding
We will hike up the mountain tops where you will see panoramic views of the beautiful Park City area. The first part of the hike is up a closed mountain road where the true workout begins. Then towards the top, we will venture in the woods to get some deep powder in the thick pine trees. Once we get to the top and after we enjoy the view, the real fun begins! We will sled down the path we took up to the mountain. Enjoy the thrill of racing down the hill and rushing by the trees and snow in your personal sled! This is truly one of the most fun things to do in Park City!
DetailsRate: $99 per adult & $75 per child

Rate: Private: $175 for 1 person, $125pp for 2+

Rate includes: round trip transportation from lodging, snowshoe rental, waters/snacks, and guide.

Rate does not include: taxes and gratuities.
Call 435-640-2907 to Book
Book Online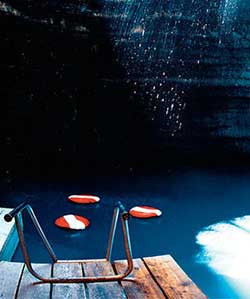 Tubing and Hot Spring Cave Excursion
We will pick you up in Park City and drive you to Soldier Hollow to go tubing. On the way, we will tell you local stories and fun jokes about the area. After the two hour tubing session, we will take you to a local spot where you can have lunch on your own. After the hour lunch break, we will drive you to the homestead crater where you will enjoy a therapeutic soak in the famous hot spring cave. The cave has a natural spring with a diameter of about 40 feet and is 60 feet deep! There is a hot tub structure where you can sit and relax or you can grab a life jacket and float in the deep pool with the scuba divers. The temperature is about 91-94 degrees making it not too hot but not too cold. There are lockers and changing rooms in the cave and you are welcome to leave all unused extra gear with your driver in the car. This is a fun all day excursion!
DetailsRate: $175 per adult, $150 per kid (4 person minimum, 10% discount for more than 6 guests)

Rate includes: round trip transportation from Park City, two hour tubing session and admission to cave, waters, lunch/dinner stop, and driver.

Rate does not include: taxes, gratuities or cost of food for lunch/dinner.
Call 435-640-2907 to Book
Email to Book
Comparison Chart
| | | | |
| --- | --- | --- | --- |
| Activity Name | Activity Details | Length | Cost |
| Tubing Transportation & Local Tour | Incl: RT Transportation and local activity/tour | 3 hrs | $299 for 1-4 people, $25 per person above that. |
| Snowshoe Tour & Sledding | Incl: RT transportation, snowshoes, snacks & guide | varies | $95 adult/ $70 kids/ $115 private |
| Tubing & Hot Springs Cave | Incl: RT Transportation to tubing, lunch and cave - admissions extra | 6-8 hrs | $175 per adult, $150 per kid (4 person minimum, 10% discount for more than 6 guests) |