Tour the Great Salt Lake by Boat
(Tour Season from mid-April to late October -
Boat Tours are closed for rest of 2022. See you in Spring of 2023
)
The Great Salt Lake is truly a magical and unique world destination. Known as the largest salty body of water in the Western Hemisphere, it attracts visitors from all around the globe. The Great Salt Lake Marina is one of the busiest marinas in the state and even is home to the country's longest running yacht club. For years, locals and visitors have been asking about boat tours that actually go onto the lake and now they are finally here! Come enjoy a simple boat ride, a saltwater float or a spectacular sunset cruise while at the lake. During certain weeks of the season, there are some bugs that hang around the shoreline but we will keep your face bug free with our beekeeper style hats while we exit the marina during those times. Once out on the lake, the bugs are gone and the only thing getting in your way are the views! Where else do you think Salt Lake City got its name? Come experience why!
Tours depart daily from the Great Salt Lake Marina, which is in the Great Salt Lake State Park. Located off Exit 104 on Interstate 80. The marina is about 10 minutes from the airport and 25 minutes from downtown Salt Lake.
What to Bring
Swimsuit and towel (for swimming tours)
Sun glasses
Sun block
Cash for gratuities
What We Provide
Waters
Free picture taking (with your phone or ours)
Stories and jokes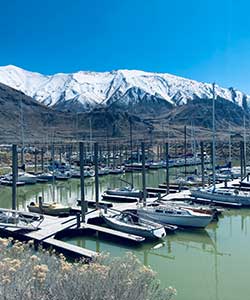 45-Minute Boat Tour
From the marina, we will board our 20 ft pontoon boat and head out to sea! We will go out on the lake and see many different views of the area. Our guide will also tell you about the history and some local stories and jokes as well! We will also do some demonstrations explaining the uniqueness of the Great Salt Lake while we are out on the water. Cold waters will be provided. This is a non swimming tour.
Details Cost: $33 per adult, $25 per kid
Call 435-640-2907 to Book
Book Online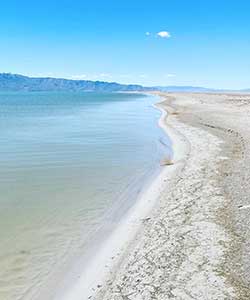 2-hour Sightseeing and Swimming/Floating Boat Tour
We do everything in the 45 minute tour but in addition to that tour, we will get to swim and float in the saltiest body of water in the Western Hemisphere! We will make two stops out on the lake to experience a 20-30 minute float break at each stop. Enjoy bobbing like a cork and just try to make yourself sink, it's humanly impossible! Or just grab one of our floatation pillows for your head and just lay back, relax and feel total weightlessness. Waters and a light snack will be provided.
Details Cost: $70 for adult, $55 for child


Call 435-640-2907 to Book
Book Online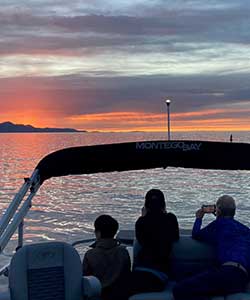 1-Hour Private Sunset Tour
Head out on the boat with us and experience the prettiest sunsets in Salt Lake City. Enjoy the breathtaking views of our inland ocean and learn the history and stories of this unique area! We will also serve some Utah Champagne (non alcoholic sparkling cider) while enjoying the views. Other F&B can be brought or purchased on request.
Details Cost: $250 for 1 hour sunset tour for the entire boat. Boat seats up to 9 guests.

$300 for 1.5 hour sunset tour for the entire boat. Boat seats up to 9 guests.
Call 435-640-2907 to Book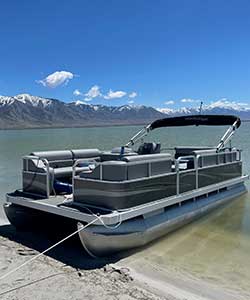 Private Boat Charters
Have a group of 6 or more or just want a private boat to go and do as you command? We are here for you. We can enjoy the views of the lake, float and swim, enjoy a sunset or full moon, and even find some secluded remote beaches to sit back and soak up the sun and salt!
Details Cost:
$230 per hour for 9 passenger boat
$250 per hour for 12 passenger boat
*Two hour minimum on all private boat charters
**Our captain is required to drive the boat for you and is included in the hourly rate
Call 435-640-2907 to Book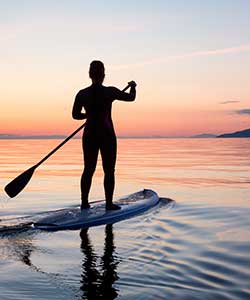 Stand-Up Paddleboard Rentals
Want to enjoy the lake on your own? Rent a SUP and be your own captain! You can exercise, swim and just relax!
Details Cost: $25 per SUP for a 2 hour rental


Call 435-640-2907 to Book
Book Online
Comparison Chart
Activity Name

Activity Details

Length

Cost

Informative 45 minute tour

Incl: waters

.75 hr

$33/ adult -
$25/ kids

2 hour Sightsee, Swim, Float
Incl: waters, snacks, floatation devices
2 hrs

$75/ adult -
$55/ kids

1 hour Sunset Cruise

Incl: waters, non-alchoholic champagne, snacks
1 hr

$250 / hr

Private Charters

boat seats up to 9 people

2+ hrs

$200 / hr

2 hour SUP Rentals

Incl: SUP, life jacket, paddle

2+ hrs

$25 / 2hrs