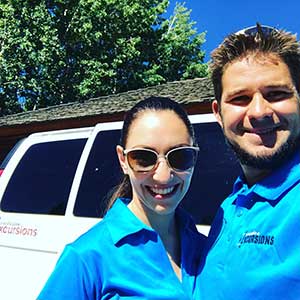 About Us
Thank you for taking a look at our site and considering Exclusive Excursions for your tour or transportation provider! We look forward to showing you a Park City experience like none other!
Our company was started in May of 2010. We had the idea of starting an outdoor adventure company that not only offered access to many of the popular activities in the Park City area but we wanted to offer them in a way that could be customizable to our guests! Visitors to Park City come from all different areas and have all different backgrounds, life experiences, physical abilities, financial status, etc. so a "guided hike, bike ride, river experience, etc" can certainly mean a whole lot of different things to each one of our guests. When booking activities, we always like to ask to follow up questions to see exactly what our guests are looking for and see if we can add/modify things that often the guest doesn't even think about! Since most of our excursions are indeed private tours, it gives us great power to make each excursion a perfect experience for all of our guests.
A few years ago, one of our guests recommended that we become a full vacation booking service by helping Park City visitors book items such as lodging, event tickets, restaurant reservations, etc. in addition to booking their transportation and outdoor excursions. We loved the idea and have been doing it ever since! In fact, most of our customized tour options have been designed by our past guests themselves; all we did was just listen!
We always want to make sure we offer the exact services our guests need. Often we get guests who call us and say, "Book everything! We need lodging, transfers, activities, reservations, etc." but then often we have guests who like booking things on their own and have their own car to drive so they are really looking for things to do that they could not do themselves. Rather than just offering them a guided hike or bike-ride (that they could just do themselves) we would offer to take them on a series of hikes that are local favorites and that are very hard to access and navigate without a guide. But we would still give them ideas for some of our other popular hikes; which they could do on their own. We also offer both guided and unguided kayak/rafting tours on the Provo River with both transportation and self-drive options so one simple activity can have many different options based on the exact needs of our guests.
Most of our team has been with the company for many years and all our team has a deep knowledge and love for the outdoors and Park City as a town! Please give us a call or send us an email and we can get started on your future Park City memories!
Respectfully,

Jeff Manwaring
Owner and Founder